Do you know the top 10 free social media marketing tools? Well, here we show them to you so you can try them all!
Whether you work for an agency where you have to pull the chestnuts out of the fire on your own or if you work for a marketing department, you will always have a budget. And many times it is not enough for everything you need to do a good job. 
But sometimes you can get tools, applications, platforms, networks or services that help you without having to pay a penny for them. The question is knowing which ones are worth it. 
In this article we have compiled the top 10 social media marketing tools that are commonly used by digital marketing agencies. And also, many of them have a Spanish version. 
These tools will help you with everything from design and copy to video and image editing to account analytics and statistics. And the best thing is that you will be one of the best on the market without having to spend more!
1.AdsReport
If you have a paid content strategy, you can accelerate progress towards your brand goals. 
Facebook Ads is a great help whether you want to increase your audience or sell more or both. But controlling ad accounts and results isn't always as easy as it might seem . 
If you need basic metrics like spending, impressions or CPC, you usually have to find them among the mountain of information that Facebook offers in your account. 
AdsReport helps you if you want to optimize your analysis. Once you connect it to your Facebook account you will be able to see all the analytics in seconds and you will also be able to see them in Spanish. 
Core metrics like spend, revenue, impressions, clicks, CTR, and CPC appear at the top with a comparison to the previous period in different colors, which is very helpful.
Always have your Facebook ad results at your fingertips with one of our favorite social media tools.
Click to see more metrics and to be able to see all the important information for your team, such as the number of likes, visits to the landing page , engagement and purchases. 
If you only want to see statistics for a specific campaign, select the specific campaign.
AdsReport, in addition to showing you the metrics of the campaign, identifies the ad that performs best based on criteria such as clicks, impressions, CPC or CTR.
2.Facebook Barometer
If you stop to think, maybe your Facebook strategy is missing something… When you are so focused on your goal, it is very difficult to take into account other external factors. Getting some perspective sometimes takes time. 
Imagine that your client's Facebook followers are growing on a regular basis. Or maybe your marketing agency is getting incredible reach compared to previous months. Cool!
But… how are the results of your competition? 
In reality, your competition works hard to attract an audience similar to yours. It is very important to keep your progress in mind when reviewing your results. 
With this free tool, Barometer , you can compare your Facebook Page to your competition in seconds. Connect your Facebook page to the tool and see how your results compare to over 58,000 other pages. You can compare metrics such as: 
reach among followers

engagement rate

people talking about your page

negative feedback

paid scope

viral reach

CTR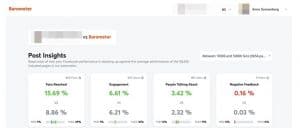 Barometer is number two on our list of free social media tools.
The average percentages shown in Barometer are the result of the last 50 posts from each Facebook page. That is why they have a solid base to be able to compare them.
To fine-tune your Barometer results, choose the rank of your audience that matches your Facebook Page to get more accurate averages about the market.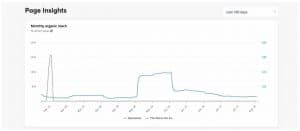 Continue scrolling down and you'll see more information about the page, like reach and impressions, for example. 
You can make a comparison between your page and the market average of the last 30, 90 or 180 days to get a better idea of ​​how your brand is really performing.
3. Bit.ly
When you share links on social media, you don't always see the real URL. Sometimes it's too long and would clutter up the post and that's why you prefer a shorter URL. Other times the link leads to a site that you do not manage and you need a way to trace the results.
Many of the best social media tools include the ability to shorten URLs. But they don't always give you much control over the process.

Bit.ly, a tool for social networks that makes our lives easier. 
Bitly , a free social media marketing tool, shortens URLs and saves them to your personal database. 
With Bitly, you can shorten any URL or create a custom slug like bit.ly/my-custom-slug.
Within your database you can put titles to each URL and add labels to be able to organize yourself better. Imagine what that means: that you can put tags to each URL related to a campaign or promotion and thus you can analyze them in an easy and fast way. 
But Bitly offers much more than a shorter URL. It also offers basic analytics so you can see how each link has performed. You can track the clicks a URL receives on a daily basis and you can track their referral links.
With just one glance you can see which social network, email or SMS campaign the clicks are coming from. 
If your marketing strategy includes QR codes, you'll love Bitly's easy-to-use generator. You can create a QR code from any Bitly link, giving your audience another option to connect with your brand. 
And if you need more and your budget allows, you can opt for Bitly's paid features. 
With the paid options, you will be able to create a URL for your brand with custom domains. This can mean an increase in CTR and a great help in reaching web traffic goals in an even more reliable way.
4. Canvas
Whether you share a blog article, a specific promotion or any other content, you need images and quality ones. 
But taking your own photos and designing your own images takes time and costs too.
If you don't have the time or money to waste them, Canva is a great option. This free application allows you to create all kinds of images, from Facebook cover images or Instagram stories to tweets or images for your blog, and it has a Spanish version.
Canva is one of the most popular tools to design images for social networks in an easy way and with a Spanish version. 
You can start by choosing from hundreds of templates. They all follow each platform's recommendations for image size, so you can forget about having to adjust it! Just add your own text, logo, and photos to customize each template.
If you don't have photos you can use, you can choose one from the Canva gallery or download one for free . 
Once you've created something you like, you can use it over and over again. simply by copying the design and updating the text or photos. You already have a personalized template of your brand that you can reuse whenever you want!
If you use Canva a lot, you can take advantage of the paid version. When you pay for Canva Pro, you can save brand colors and fonts, add GIFs, and resize designs for use on other platforms with a single click.
5. Easel.ly
When you post on social media , you have limited space to grab the attention of the public. If your message is too long or complicated, you need to get to the point before your audience skims past your post. 
One way to use the power of images to attract attention and expose complicated ideas is to use infographics. 
But it takes talent to design infographics. You can't create it in seconds just by adding different elements to the infographic. 
For this very reason, Easel.ly can be of great help to you. This free social media tool lets you create professional-looking infographics without being a graphic designer. Its Spanish version has a lot of room for improvement but it can help you to have it. 
Start by selecting a basic template. Then add images, charts, data and any other visual elements. 
If you want to add movement to your infographic, you can add GIFs to it. Easel.ly is also connected to Unsplash so you can add royalty-free photos to your infographic at no cost.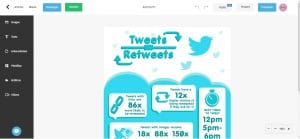 When you finish you can hang or download the infographic. You can also use Easel.ly's social media integrations to share it directly on Facebook or Twitter. 
Although Easel.ly is one of the best social media apps , you can choose to make it even better with the paid version. With this version you will have access to hundreds of premium templates, more than a million icons and photos and better organization.
6.Easy Advocacy
What do you do when your business or client writes a blog article or posts great content? You post it on social media to get the word out, right? Well, the members of your team can become the biggest fans of the brand. 
But first of all, you need to convince them to do it. 
An email or a message on Slack is usually not the best way to spread any message. That's why you need Easy Advocacy , a free social media tool. You can keep anyone interested informed about any new content. And in addition to being able to facilitate the task of sharing that content, you can do it with its Spanish version.
First of all, create your distribution list. Then create a campaign with a link, title and description and send it to your distribution list. Each person will receive an email to be able to promote the campaign. The email they receive includes buttons to share on social networks and a link to send it by email. So promoting it comes down to a simple click. 
Once you've created the campaign, you can forget about manually tracking it. The main screen of your Easy Advocacy plots the most important statistics of your campaigns automatically. 
You can see which members of your distribution list are your best ambassadors and on which social network the campaign has worked best.
7.Feedly
If you dedicate yourself to social networks, you need to be up to date with everything that happens not only in them, but also in marketing and more. 
What does your audience read? What's hot in your market? What content creation ideas can you get from what your competition publishes?
Feedly, as a news application that it is, allows you to get a clear idea of ​​the situation. 
With Feedly you can customize your own news thread, who you want to follow and filter out irrelevant content knowing you don't miss out on anything important.
It groups the same type of news in a single place to be able to have all the new publications of the same topic at a glance. You can remove items from your list or save important ones for later as you read them. 
In addition you can also save your favorite items to be able to use them again whenever you want.
8.Headline Analyzer
Writing titles is not easy for anyone, it does not matter if you are an experienced writer or if you have been writing a blog for more than ten years. 
A good title can get more people to click, which means more traffic on the website, and a greater reach on social networks. Or what is the same, increasing the quality of your titles will be a great boost for your brand. 
With CoSchedule's Head Analyzer you can check if your title needs to dedicate a little more work to it or if it is a guarantee of success. 
Write the title in the tool and it will give you a note as well as a preview of how it will look. 
This is how this tool calculates the note of your title: 
Types of words 

: analysis of common and uncommon words, emotional words and words that attract attention

Characters 

: number of characters in the title, including how close you are to the ideal number of characters

Words 

: number of words in the title and tips to lengthen or shorten it if necessary

First and last 

: a visual on the first and last 3 words of the title, since they are the ones that attract the most attention

Keywords: 

a review of the most common search terms that appear in your title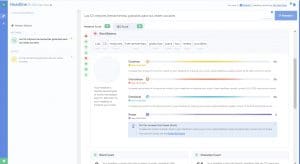 If the result looks green, start using it!
If it appears in yellow or red, follow the tips to improve the headline and attract more attention with your publication. 
Please note that this app is in English, but it can give you information about your degree in Spanish as well.
9.Loom
Text space in social media posts is tight and you can't always say everything you want, especially if you're limited to 280 characters. Has it ever happened to you that you would love to be able to send a message without having to write it? Or create a video that quickly explains what a process is like?
Loom allows you to easily share and record your screen. If you want to give it a more personal touch, you can add yourself to the video in one of the corners, while you explain what you are sharing. But you can include just your voice or just the screen if you prefer. 
10.Twitter Report Card
You spend a lot of time preparing your Twitter strategy . You carefully choose your 280 characters. You use strategic hashtags. You select super segmented Twitter lists . How does all that work?
Like Barometer, Twitter Report Card compares your results with the average of the rest of the market. Only Twitter Report Card also allows you to choose who to compare your results with, not like Barometer.
After connecting your Twitter profile to the tool, add someone from your competition. As soon as you do, you'll see the comparison between your audience, posts, and conversion metrics. This free social media tool compares statistics such as: 
followers

interactions

interactions per follower

tweets

interactions per tweet

conversations through tweets
If you already manage one or two Twitter accounts, this comparison can show you where you stand in the market and what your strengths are. 
If you want to attract new clients for your social media marketing agency, this tool helps you to analyze the competition on Twitter and shows you where you have the most room for improvement. 
In summary
Sometimes it makes a lot of sense to pay for a social media marketing tool. Many of them are worth your time, especially if you need a trusted platform to schedule content, track the market, or create reports. But that doesn't mean you pay for absolutely everything.