If you are looking for a way to open exe files on Android , you are in the right place. Although in general the process is not as simple as running APK files or opening BIN files , there are several tools that can be used to open these types of files.
Bearing in mind that .exe files are executables for computers, you may be wondering why do it on a mobile phone. The reasons are various: use Windows 11 programs on the phone or play old video games, for example.
Being such an important format among software installers, we explain the most popular methods and with the lowest percentage of failure to run .exe on Android
In this article you will learn:
Can .exe files be opened on Android?
The quick answer is no. It is not possible to open .exe files in Android natively, as the system is not configured to do so. This is for reasons of security and compatibility with the mobile system.
However, there are certain options to open .exe on an Android mobile. Keep in mind at all times that they are unofficial methods and it is possible to find some obstacles such as compatibility errors, bugs or even malicious programs camouflaged as applications.
Running exe files on Android is a high risk action , which is your responsibility. Make sure you do it only if you know very well what you have in hand.
How to run .exe on Android with apps and emulators
There are tools that allow you to open .exe files on Android very easily. Even so, none is a total guarantee that the executable works properly on your mobile, since they are programmed to work within a Windows environment.
In any case, we explain what it is and step by step how each method works.
Inno Setup Extractor
This is the most popular Android exe extracting tool and one of the easiest to use. You can download it for free from the Play Store and it is used to extract Inno installation files directly on Android.
It is not capable of executing any .exe file, this being one of its main weak points . It only supports Inno configuration files , which are generally used to install programs in Windows.
Even so, it fulfills its function and if you have a compatible executable, you just have to follow these steps:
Open the app and find the .exe file.
Extract it to a folder.
Then browse the folder to check the files whenever you want.
Magic DosBox
Perhaps you know something about DOSBox applications, especially if you've ever run old programs on recent operating systems. This alternative is one of the best MS-DOS emulators on Android, the predecessor operating system of Windows that had interesting games.
With Magic DosBox you'll be able to run .exe files on Android, mainly to rescue those entertaining titles. You can download it from the Play Store, although the games are purchased separately.
That's how it works:
Open the app and select the '+' button .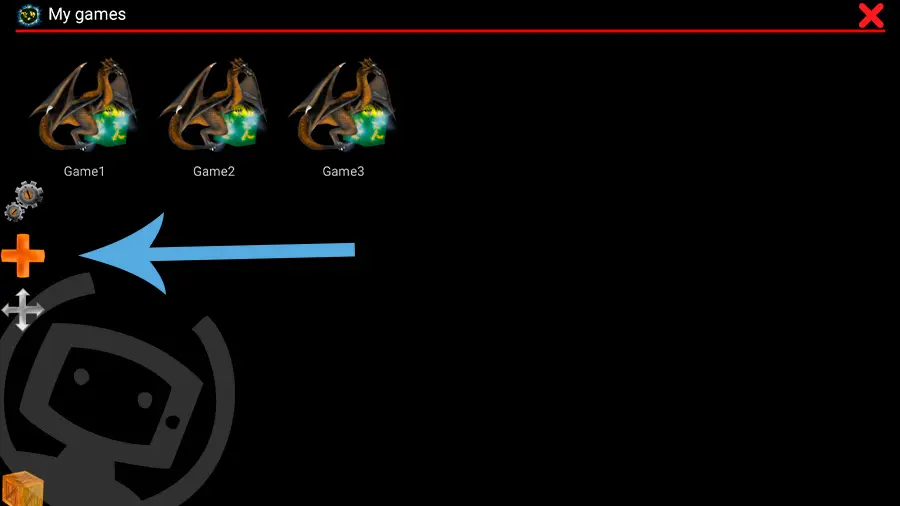 Select on the New game option .
Press the Choose tab and configure the path where you have the saved game.
An icon of the MS-DOS game for Android is created. Click on it.
Now the interface looks like a command line .
If you press the back action button on mobile, a menu opens. Inside, you must select the icon on the right of the PC keyboard.
Now type the command 'dir' and press Enter .
The files in the folder will be listed and you should find the one you want to run.
Type the name of the .exe file that you are going to run on Android and press Enter.
At this point the game starts to load and if all goes well you will be able to play.
Note that you will also need to set up the controls , even if you connect a mobile keyboard and mouse. To do this, click on the action back key and enter the ' Add Virtual Buttons ' section. There you can configure it to your liking.
It is worth noting that Magic DosBox is a port of DosBox Turbo, and although it is paid, the free version meets your needs.
aFreeBox
Another zero waste DOSBox emulator, suitable for reviving games of yesteryear on mobile. It is capable of executing Windows or MS-DOS compatible files and the process is quite simple, even though its interface is in English:
Save the .exe file in the Downloads or Downloads folder. Make sure to use a comfortable name to remember, like 'filename.exe'.
Download and install aFreeBox on your mobile.
As soon as you open the application, you will see a DOS interface with its command line :
Make sure the directory takes you to the downloads folder, set to /storage/emulated/0/Download/ by default. If you need to change the directory path, use the cd [directory-address] command and type in the new path.
Enter the name of the .exe file you want to run and hit Enter on your Android keyboard.
At this point you will see DOSBox install the package for the program or game you want to run.
When the upload is finished, you can open the app .
Although this option is free, we recommend you opt for the paid version of DosBox Turbo . It is priced at € 2.49 and has slightly optimized functions, supports compatibility with the keyboard, mouse or an external joystick , connected by USB port or via Bluetooth.
Computer File Explorer
Organizing the files to open an .exe on Android is not always easy. This tool serves as a file explorer that simulates the computer interface inside your mobile , it also supports special functions such as supporting multiple tabs and windows to open all types of files.
It incorporates its own multimedia player with support for compressed files and the ability to eliminate tasks running in the background. It is not an emulator nor does it convert .exe files to .apk, but it can help you enjoy a very Windows-like experience.
WineHQ
Let's go with another alternative, this time outside the Play Store. WineHQ does not emulate the Windows environment . Actually, it is a cross-platform interpreter that stores the necessary libraries to run files specifically designed for Windows environments. His name is an acronym for " Wine Is Not an Emulator ".
It has become a great .exe file reader within the Android environment. Please note that this Android mobile version is still in an experimental stage and not all executables can be opened.
Even so, it is still good enough to recommend it and its installation is very simple:
The first thing is to go to its official download page .
Select the version of Wine that best suits your device, as it does not necessarily have to be the latest. You can choose between ARM (the most common in mobiles) and x86.
Run the .apk file you just downloaded.
Grant permissions to install apps from Unknown Sources or External Sources, depending on your phone model.
Once the installation is complete, run the app.
Now, how to open an exe file with Wine? The first thing is to make sure to save the .exe file in the downloads folder of the mobile, then install it as follows:
Press the ' Start' button and then select ' Run' from the drop down menu.
Type 'CMD' and press Ok to access the command console.
Now run the following line of code ' cd /storage/emulated0/Download/filename.exe' .
You will have to change the name of the file depending on the name you gave it when you saved it.
If the version of WineHQ is compatible with your mobile, an installation wizard will start . Otherwise, you will have to try other versions.
Once the installation is finished you can enjoy the application from Android.
Despite being a very complete tool, it has a keyboard bug that can be a problem if you do not use an external keyboard and mouse. If you cannot display the keyboard from the mobile, you will have to install the Hacker's Keyboard application to activate the " User permanent notification " option.
Only in this way, you will be able to display a keyboard in the notification bar when you do not have an external keyboard. As you can see, it is very easy to install, but you will need some patience and maybe several tries to run your .exe file on Android.
You will be able to do almost the same thing as on your computer, as long as you run only compatible programs . You will be able to browse the internet, open applications and games, but only if they are not very demanding.
remote desktop viewer
Although you have useful tools if you want to open an .exe on Android, it is important to know that there are better ways to run programs or games on your device. An alternative that you should keep in mind is the possibility of playing in the cloud through services such as Google Stadia , Nvidia GeForce Now or Xbox Cloud Gaming.
The other alternative is to turn your mobile into the PC screen . In this way it is not necessary to open exe files on Android, you just have to run them on the computer and use the mobile as your interface. It's even better, as the programs run seamlessly from within Windows.
Although each application has its own interface and mode, in general the steps to connect Android and Windows are as follows:
Connect your mobile and computer on the same Wi-Fi network .
Install one of the apps on both devices.
After the initial setup, copy the code , port number or name that is assigned to the computer.
Enter the mobile app and select Connect.
Locate the Mirror PC to Mobile option, it may also be an option identified as Computer Screen Mirroring .
Launch PC screen mirroring on Android . Sometimes you will have to accept the synchronization from the computer.
On your Android mobile you can control the Windows interface , and run all the exe files you want.
Perhaps for some this option is more like cheating, but it is still very interesting to run exe files on your computer , accessing from Android. At least it ensures that the app or game can run properly
Can the EXE file be converted to APK?
The process that allows executing an exe on Android is applied only by interpreting the executable. While some programs create a small Windows emulator and use the mobile as an interface, others convert the .exe file into an admissible format .
Usually this conversion process does not work due to incompatibility between Windows and Android processors. Anyway, there is a software that can get you out of trouble very quickly and it is used from the browser :
The first thing is to download and save your .exe with an easy-to-remember name.
Now download the converter from this link .
Extract the program from the ZIP folder.
Run the conversion tool and select the 'I have a portable app' option .
Select the destination folder for the .apk file.
Now choose the .exe file you want to convert and click OK .
With the files prepared, click on the Convert option .
You may have to wait a few minutes , depending on the size of the file.
Transfer the converted .apk from your PC to your mobile.
Lastly, install this .apk on your phone.
There is no doubt that this is the preferred tool to convert .exe to .apk; but this is not a guarantee that the executable will work as it should from your mobile, unless it proves to be fully compatible with the system. Not all .exe files support this type of conversion.
EXE files on Android: frequently asked questions
Let's go with some of the most frequently asked questions when running an .exe file on an Android mobile.
What is an .exe file?
An .exe file is a type of format known as an executable file and it stores the instructions needed to run programs on the Windows system . In fact, installers are often identified as setup.exe , install.exe , or even have unique names in that kind of format.
The executables for the Android system applications are of the .apk type, which work in a very similar way to the exe files, but adapted to mobiles.
Can I run an .exe file on Windows Phone?
Unfortunately , it is not possible to run .exe files on Windows Phone, at least not natively. Despite the fact that this mobile operating system tries to replicate most of the features of Windows 8, in terms of processor they are still very different computers.
The lack of compatibility is due to the fact that almost all PC software is compiled for both x84 and x64 processor architectures; while mobiles use ARM architecture.
On the other hand, it also serves as a security measure to ensure that no executables cause system problems.
How to emulate a PC on Android?
There are ways to emulate Windows on Android, using certain tools like aFreeBox or also WineHQ . It is not such a complicated process in general, but considering the difference between the characteristics of the mobile and the PC, it is also not a guarantee that you will be able to execute the .exe file correctly.
How to convert an exe file to PDF?
PDFs are a type of file compatible with different systems, capable of supporting various formats such as text, images, videos or audios. However, it is impossible to convert an .exe to a .pdf , since executables are a type of format that is not supported in this class of documents.
An alternative is to convert exe files into source code and then convert to PDF format, a rather complicated process. Also, on the internet you will see so-called .exe to .pdf converters, but they are only capable of converting an executable into a corrupted .txt format at best.
So far we have left the different ways to run an exe file on Android. Once again, we remind you that these types of files may contain malicious programs or may conflict with the mobile system. Although you have the alternatives, their use is at your own discretion.