Do you like to use WhatsApp on PC? Did you know that there is now a native app for computers? This new version replaces WhatsApp Web and provides better integration into the operating system. Although it maintains some features, there are certain improvements for those who want to completely dispense with the mobile when it comes to communicating.
But what is the native WhatsApp application for Windows 10 and 11? Where can it be downloaded? In this article we will tell you everything you need to know about it and its characteristics.
What is WhatsApp for PC?
You already know that WhatsApp is an instant messaging application for mobile devices. However, it does have a version of WhatsApp for computers.
This native app allows you to use it without the need for your mobile to be on. So it is perfect for keeping in touch with friends, family or work colleagues from your computer.
How to download and install WhatsApp for PC: the new native app
To download the native WhatsApp PC app (with Windows 10 or 11) for free, go to the Microsoft Store . Just follow these steps for its installation:
Go to the Microsoft Store and hit the download button.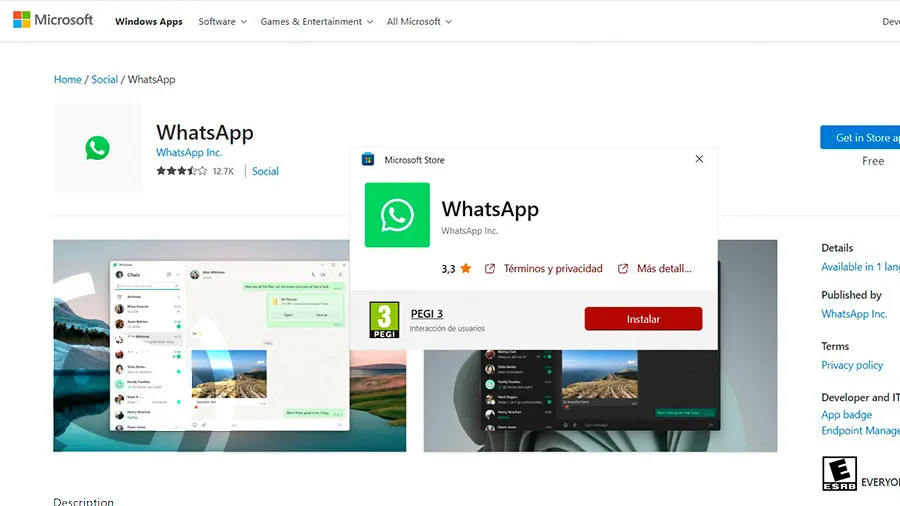 Then click on "Open". You will see the following screen:
Enter the WhatsApp of your device and click on the three dots in the corner.
Select "Linked Devices".
Click on "Link device".
The camera will be activated. With it, scan the QR code as you usually do with the web version.
Done, you are now logged in with WhatsApp on Windows.
If you are not sure where you have logged in, we recommend: how to know if there is another device linked to my WhatsApp .
Features of the WhatsApp app for Windows 10 and 11 computers
While most of the features of this native app are what the web and device versions have, there are features (such as changing the theme) that are not yet available. Here we will detail some of them.
native experience
One of the features of WhatsApp Windows is that it works natively . That is to say, it offers greater speed when sending or receiving messages and you don't need a base like WhatsApp Desktop to be able to use it. This is very efficient for WhatsApp Business , for example.
Thus, the native experience is quite good and easy to use. It also consumes less RAM and you don't need to open the web browser to enter the messenger chat.
Using the app with the smartphone turned off
Although the idea of ​​downloading WhatsApp on the computer is to be able to do without the mobile, its activity depended on it being turned on. However, now it is no longer necessary . You will be able to continue chatting with your friends even if your device turns off due to lack of battery.
Autorun WhatsApp on PC
Some features have been adapted to Windows 11, including the option to automatically launch the WhatsApp desktop app. That is, when you log in, the application will open and you can use it immediately without having to link it to your mobile.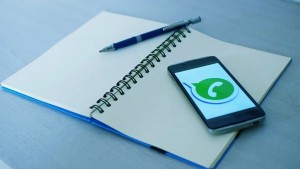 Differences with WhatsApp Desktop and the native application for Windows
Both WhatsApp Desktop and the native Windows 11 app are similar in that you can send and receive messages . However, there are some subtle differences that we will detail below.
interface design
One of the main differences is the interface design. This is presented in a clearer and more orderly way, so that you can see the chats without seeming overloaded. It also better displays the information of each one and adapts to the Windows operating system with ease.
deeper integration
In the native app you can receive messages in real time even when your mobile is turned off. It also offers greater speed than the Desktop version and integrates perfectly with your computer.
Less RAM consumption
The problem with WhatsApp PC is that it consumed a lot of RAM memory , which slowed down the computer. The new version has come to fix that problem. While the first one consumed more than 500 MB, the current one barely reaches 100 MB. It is expected that it will soon be light and easy to use, without hindering your online activities.
WhatsApp on the computer: frequently asked questions
How to enter WhatsApp on the web?
If you want to use WhatsApp web, go to https://web.whatsapp.com/ and then go to Linked devices of your mobile app. There, click on the Link device button and scan the QR code that appears on the main page.
How do I enter WhatsApp web without the mobile?
The latest version already allows you to enter WhatsApp web without the mobile on. To do this, go to the Linked devices part of the app, select Beta version for several devices and click on Join beta version .